Description
APPLICABLE TO ANY MACHINE AND TRACTOR
The VSS Agro Pressure Roller is suitable for evenly pressing the soil between the tractor wheels. The most special feature of our pressure roller? The pressure roller can be used between any machine and tractor. This sets the VSS Agro pressure roller apart from other pressure systems. Do you own a Fendt tractor? Then we supply a different type of frame to other types of tractors. The machine is mostly attached to the front of the tractor. Because the pressure roller is partially mounted under the tractor's linkage, it has a very limited attachment length. There are two types of VSS Agro Pressure rollers:  with Farmflex roller and the version with steel rings.
GET IN TOUCH
PRESSURE ROLLER PERFORMED WITH FARMFLEX ROLLER
The most common VSS Agro Pressure Roller is the version with the Farmflex roller. Designed specifically for agriculture, this type of roller is a replacement for the better-known pneumatic tyre wheels. The advantage of Farmflex rollers is that they do not puncture. This pressure roller presses the ground evenly. The rollers have a self-cleaning ability. This is because the rubber farmflex segments move so the roller keeps itself clean. Want to know more about (the benefits of) the Farmflex rollers used for the VSS Agro machine? VSS Machinebouw is importer of these rollers from France. Read more about the Farmflex roller here.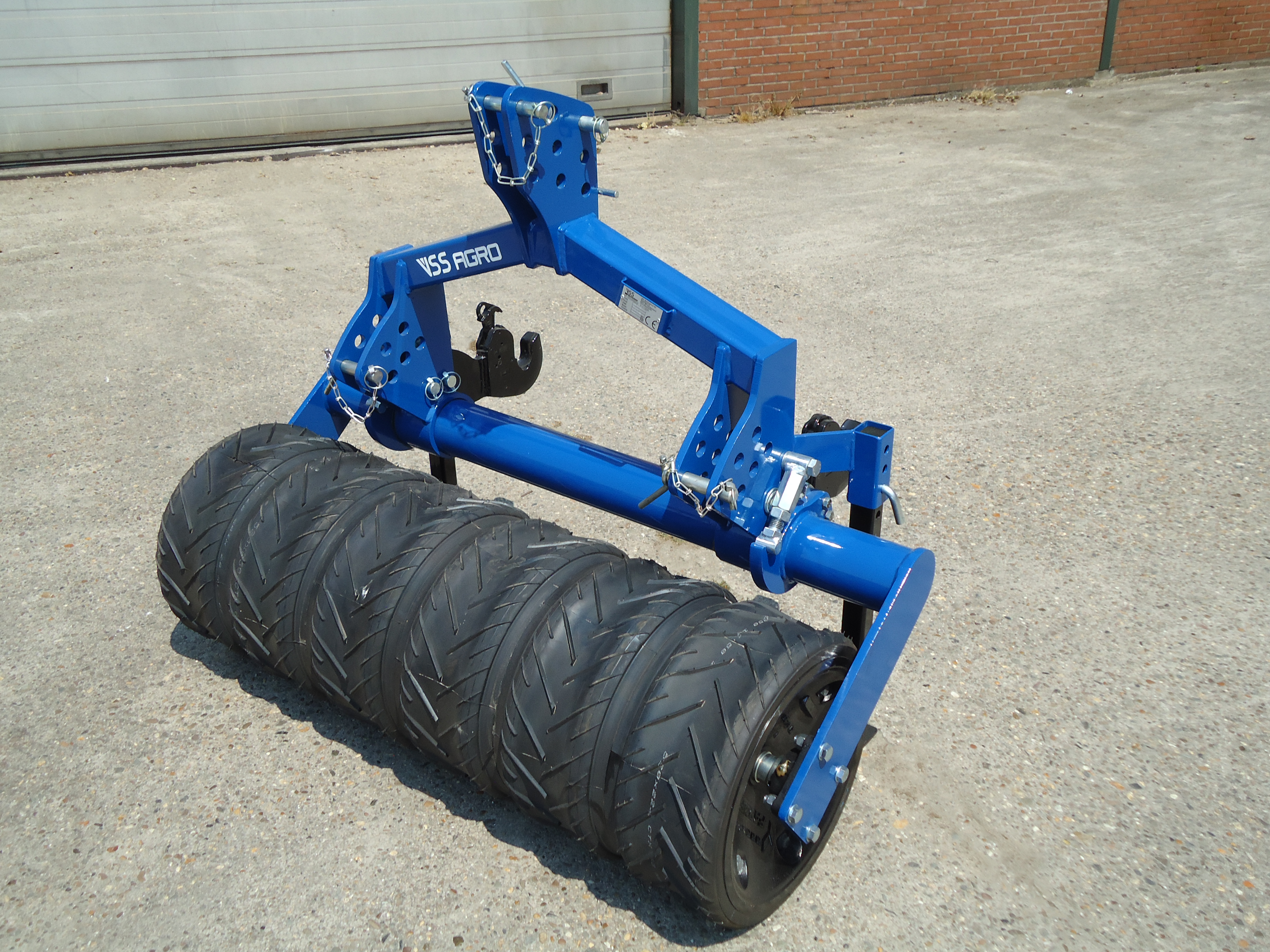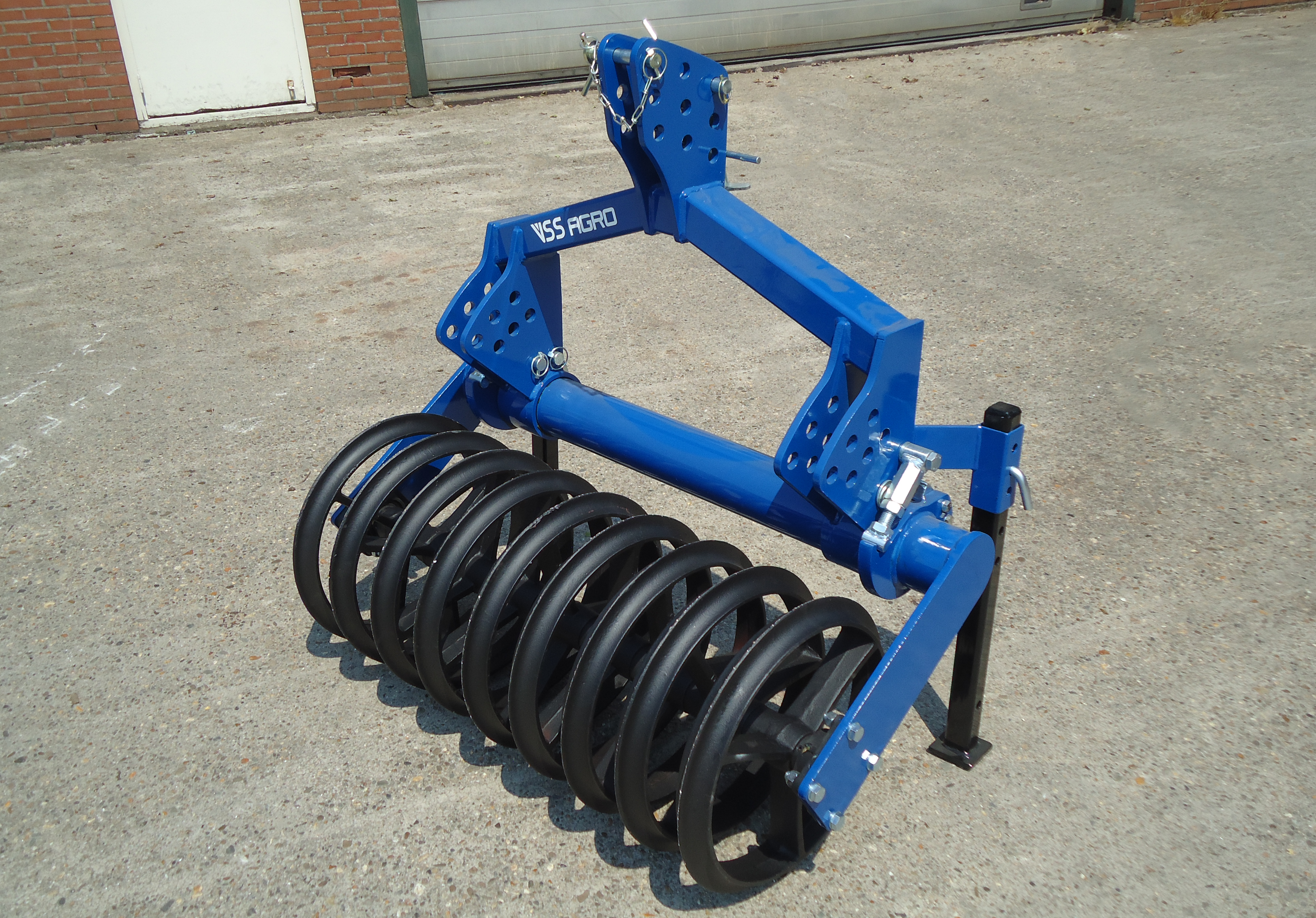 VERSION WITH STEEL RINGS
In addition, the pressure roller can also be supplied with steel packer rings. These rings ensure that even on light soils, the ground is compacted. There are two standard working widths of 1.25 metres and 1.5 metres. The maximum permissible load on the Pressure Roller with steel rings is 1,500 kg. The machine is equipped with Cat.3 coupling hooks to connect the implement. As an option, extended Cat. 3 coupling hooks can also be supplied. Both the Pressure Roller with Steel Rings and the Pressure Roller with Farmflex Rollers can optionally be supplied with a scraper.
WHY CHOOSE THE VSS AGRO PRESSURE ROLLER?
It is a useful, effective front weight
Easy to mount to tractor
Suitable for all types of front linkage
Compresses the entire working width
Working weight between wheels, fully available on headlands
Short attachment of front implement
EXECUTIONS
The table below shows the technical specifications of the two types of pressure rollers; the DR-STR with steel rings and the DR-FFR with Farmflex roller. Both come in standard and wide versions.
TYPE
DR-STR 1250
DR-STR 1500
DR-FFR 1250
DR-FFR 1500
Weight of standard machine
ca. 350 kg
ca. 400 kg
ca. 300 kg
ca. 375 kg
Working width
1.25 m
1.5 m
1.25 m
1.5 m
Total width
1.27 m
1.52 m
1.27 m
1.52 m
Type pressure system
Rings
Ringen
Farmflex roller
Farmflex roller
Coupling machine
Cat. 3,
Cat. 2 optional
Cat. 3,
Cat. 2 optional
Cat. 3,
Cat. 2 optional
Cat. 3,
Cat. 2 optional
Quantity of pressure system type
9
11
1
1
Size type of pressure system
Ø 500 mm
Ø 500 mm
Ø 520 mm
Ø 520 mm
THE VSS AGRO PRESSURE ROLLER IN DETAILS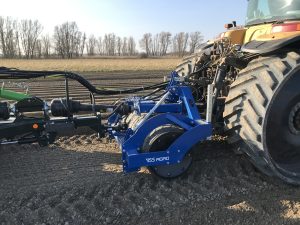 Even pressing of soil between tractor wheels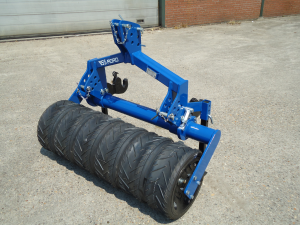 Equipped with Farmflex roller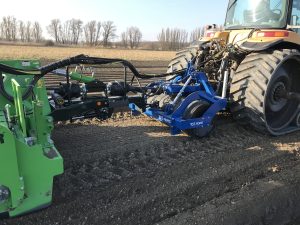 Attachment to any machine

Version with steel rings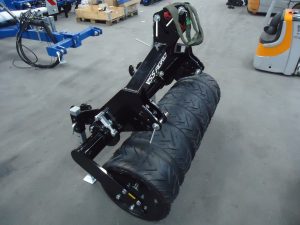 Available in other color than VSS Agro blue (option)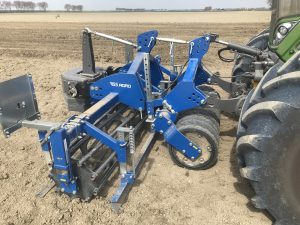 Attachment to any machine
ADDITIONAL OPTIONS
In addition to the two types of the VSS Agro Pressure Roller, some additional options are available:
Scraper for pressure roller
Extended coupling hooks
Delivery in other color than VSS Agro blue (upon request)