Description
VSS AMAC ONION HAULM TOPPER WITH SIDE DISCHARGE
THE ONION HAULM TOPPER FOR PROCESSING GREEN LEAVES
The VSS AMAC Onion haulm topper with side discharge (LKU-Z) is mainly used when there is a lot of green haulm. Consider crops such as onion sets and shallots. The LKU-Z has a robust construction and can handle large quantities of haulm. The machine is characterized by a very compact construction and comes in four working widths; 1.7m, 2.15m, 2.5m and 3.25m.
GET IN TOUCH
TWO OPERATIONS FOR OPTIMAL RESULTS
Processing the large quantities of foliage is done in two operations. In the first operation, the haulm is folded by means of a flail shaft. The flail shaft throws the flipped haulm onto a discharge conveyor with carriers, which discharges it to the right side. The onions are then re-top by means of 2 knives per knife rotor. This ensures even results and an accurate blow height.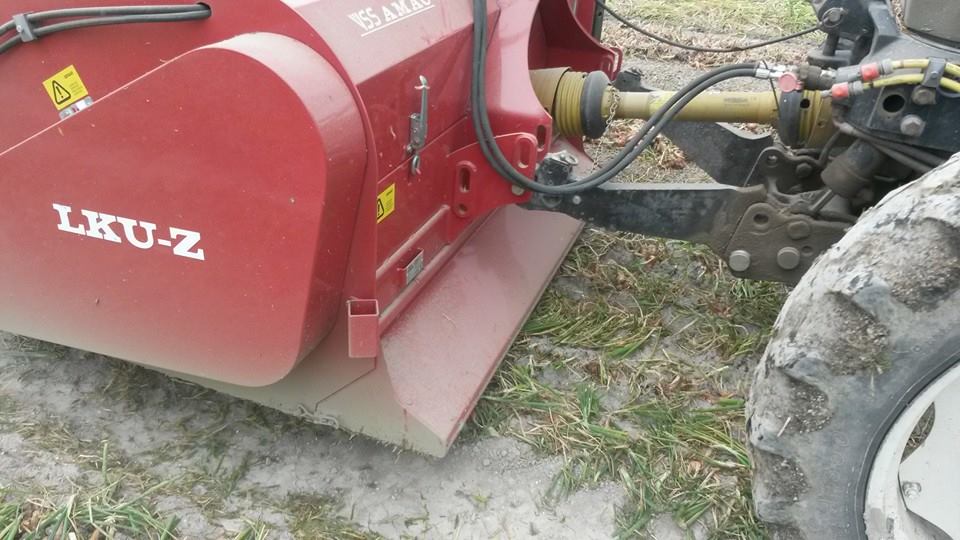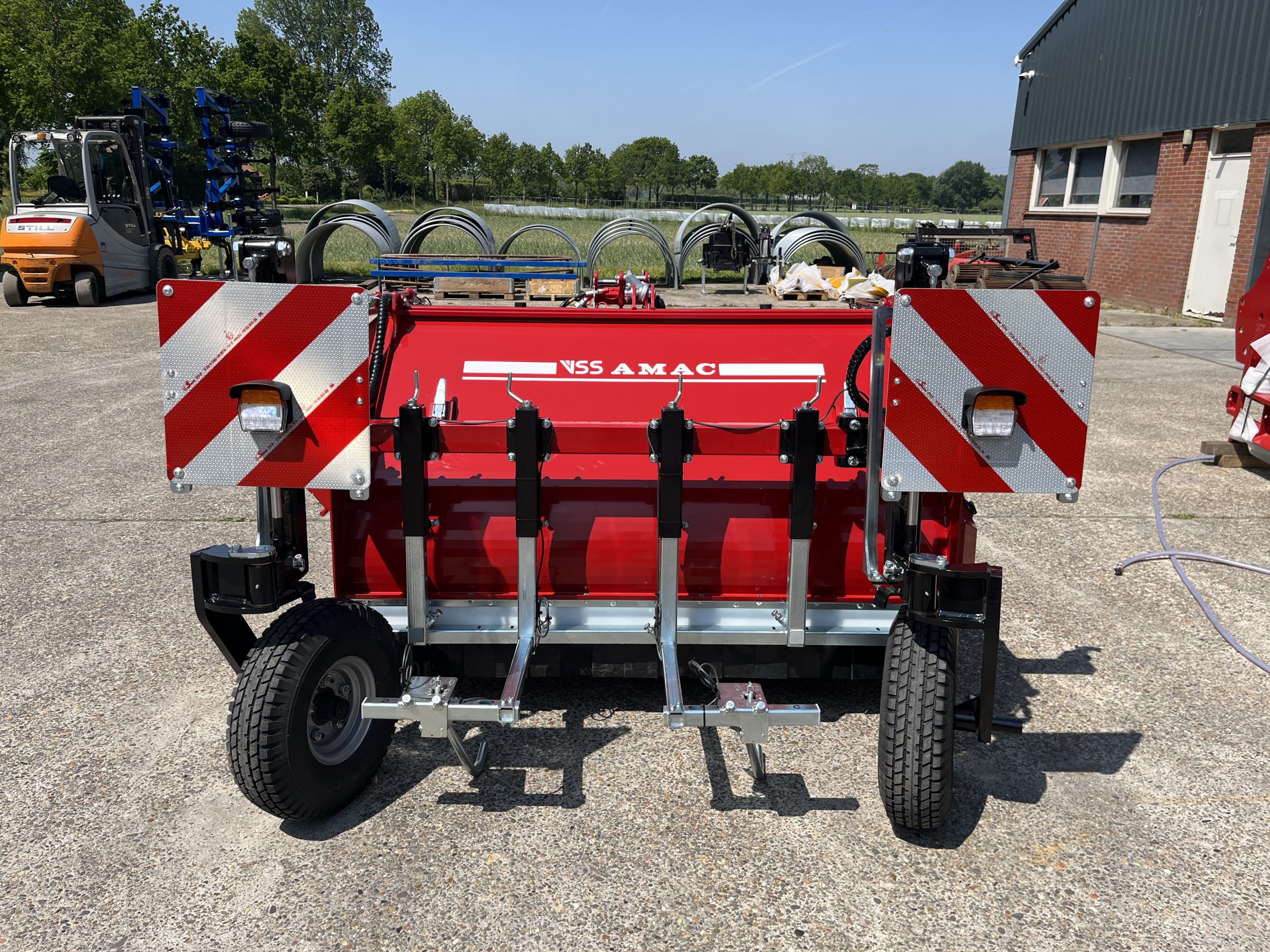 THOUGHTFUL DESIGN
The machine was further developed into its current design based on years of experience. The frame and shades are powder coated instead of lacquer. This powder coating better protects the machine from various influences, such as the acid juices of the onions and soil conditions. The flail shaft is wider than the onion bed, folding the foliage along with it on the side of the onion bed yet to be harvested. The haulm is then not pressed down by the tractor wheels. The blades come standard with a hardened wear layer. The entire machine is driven by PTO.
STANDARD EQUIPMENT WITH ADDITIONAL OPTIONS
The LKU-Z is always implemented for front attachment. There are large hoods on the front of the machine, these make servicing a breeze. The depth of the LKU-Z can be adjusted by two manually adjustable (track following) casters. These are mounted at the front as standard, but can be optionally placed at the rear. Optional depth control can also be hydraulic and automatic. The advantage of this is that it can be operated from the tractor cab. Front lighting and marker signs in LED are included as standard with the LKU-Z.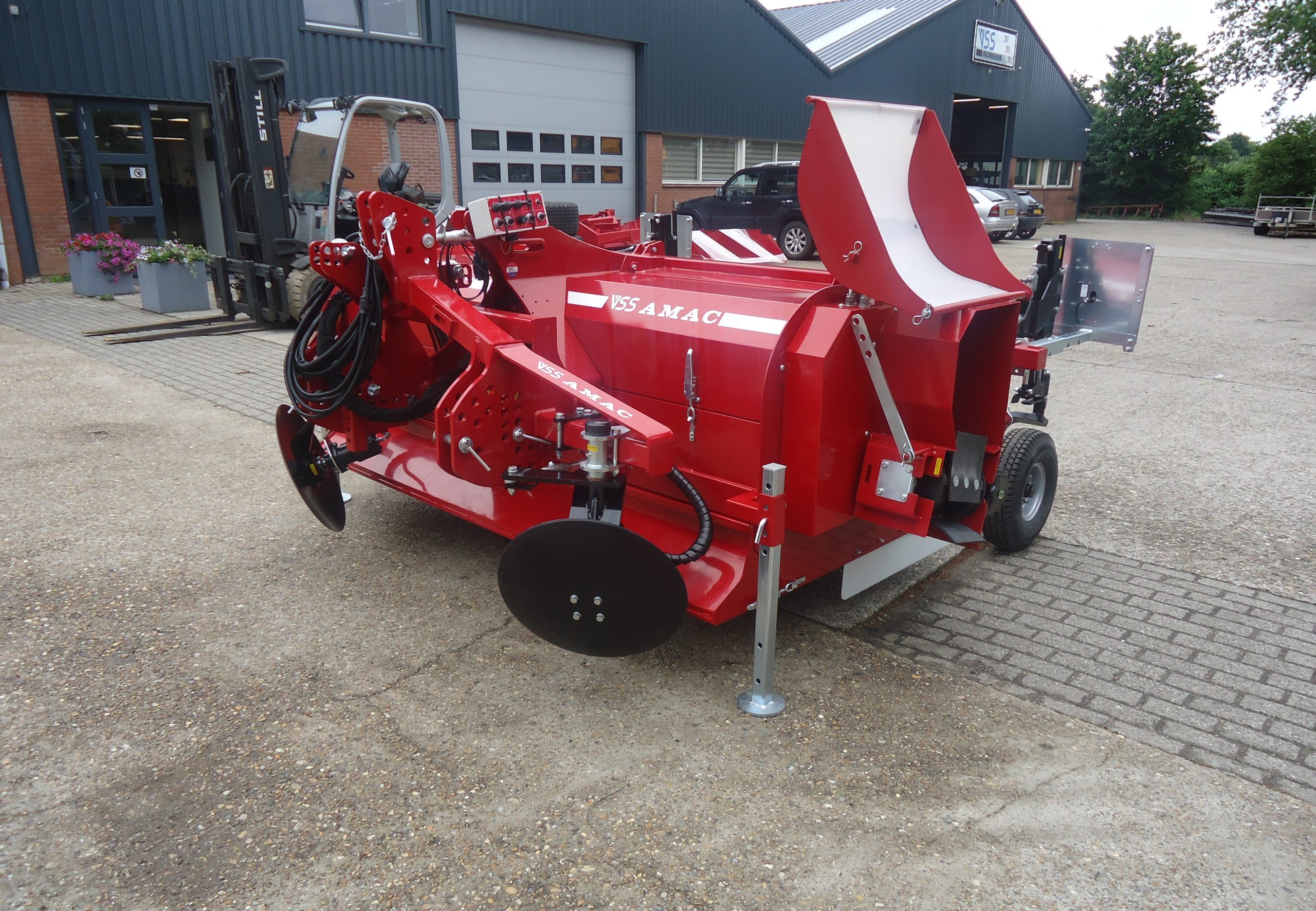 WHY CHOOSE THE VSS AMAC ONION HAULM TOPPER WITH SIDE DISCHARGE?
Very robust construction
Also claps track along
Adjustable haulm ejection
Good processing of large quantities of foliage
Choice position depth wheels, front or rear
Precise blow height using wet-poppers
Powder-coated frame and hoods
Low maintenance
EXECUTIONS
The VSS AMAC Onion haulm topper with side discharge comes standard in 4 different versions. Other working widths are available upon request. All versions can be expanded and/or customized with additional options.
| TYPE | LKU-Z 1500 | LKU-Z 1700 | LKU-Z 2250 | LKU-Z 3000 |
| --- | --- | --- | --- | --- |
| Spoorbreedte | 1,5 m | 1,7 tot 2,25 m | 2,25m | 3 m |
| Werkbreedte | 1,7 m | 2,15 m | 2,5 m | 3,25 m |
| Gewicht standaard machine | ca. 1.100 kg | ca. 1.250 kg | ca. 1.750 kg | ca. 2.000 kg |
| Aandrijving | PTO 1.000 omw/min | PTO 1.000 omw/min | PTO 1.000 omw/min | PTO 1.000 omw/min |
| Breedte | 2,3 m | 3 m | 3,45 m | 4 m |
| Lengte | 2,5 m | 2,5 m | 2,5 m | 2,5 m |
| Hoogte | 1,2 m | 1,5 m | 1,5 m | 1,8 m |
| Aantal rotors | 2 | 3 | 3 | 4 |
| Aantal messen | 4 | 4 | 6 | 8 |
| RPM rotors | 2.500 omw/min | 2.500 omw/min | 2.500 omw/min | 2.500 omw/min |
Interested in a VSS AMAC Onion haulm topper with side discharge? For more information, please
contact
with us or find the
nearest dealer
near you.
THE VSS AMAC ONION HAULM TOPPER WITH SIDE DISCHARGE IN DETAILS

1 machining by means of a clapper shaft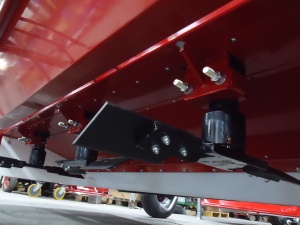 Natoppers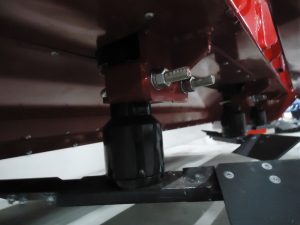 2 interchangeable blades per blade rotor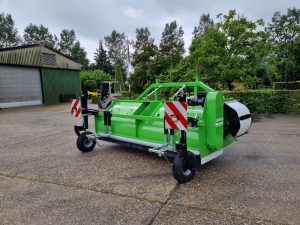 Lighting/marking signs in LED
ADDITIONAL OPTIONS
In addition to the standard version of the four types of VSS AMAC Onion haulm toppers with side discharge, a number of additional options are also available:
Hydraulic discharge conveyor
Automatic depth control
Hydraulic depth control
Hydraulically driven harvest discs