Description
VSS AMAC POTATO STOCK HARVESTER (VRA)
THE MOST COMPLETE POTATO STOCK HARVESTER
VSS AMAC stock harvesters are a well-known phenomenon in both the domestic and foreign agricultural industry. They are known as very complete machines and have many options to customize them to your liking through the various options available. The VSS AMAC Potato stock harvester (VRA) has the same frame design as the
stock harvester for onions (VRU).
. Both can be used to harvest both onion and potato crops with a few modifications. Each VRA comes standard with lighting/marking signs on the back in LED.
GET IN TOUCH
DRIVES AND DEPTH CONTROL
A PTO drives the entire machine at 540 revolutions per minute (PTO). Optional mechanical drive via PTO is also available with PTO 1,000 rpm.
At least your safety has been thought of: all drives of the stock harvester are covered with covers and the chain drives are equipped with chain tensioners. The depth of the VRA is easily adjusted by two manually adjustable wheels. Prefer to set the depth another way? This can be done by using plastic or steel diabolos instead of the two depth-adjusting wheels.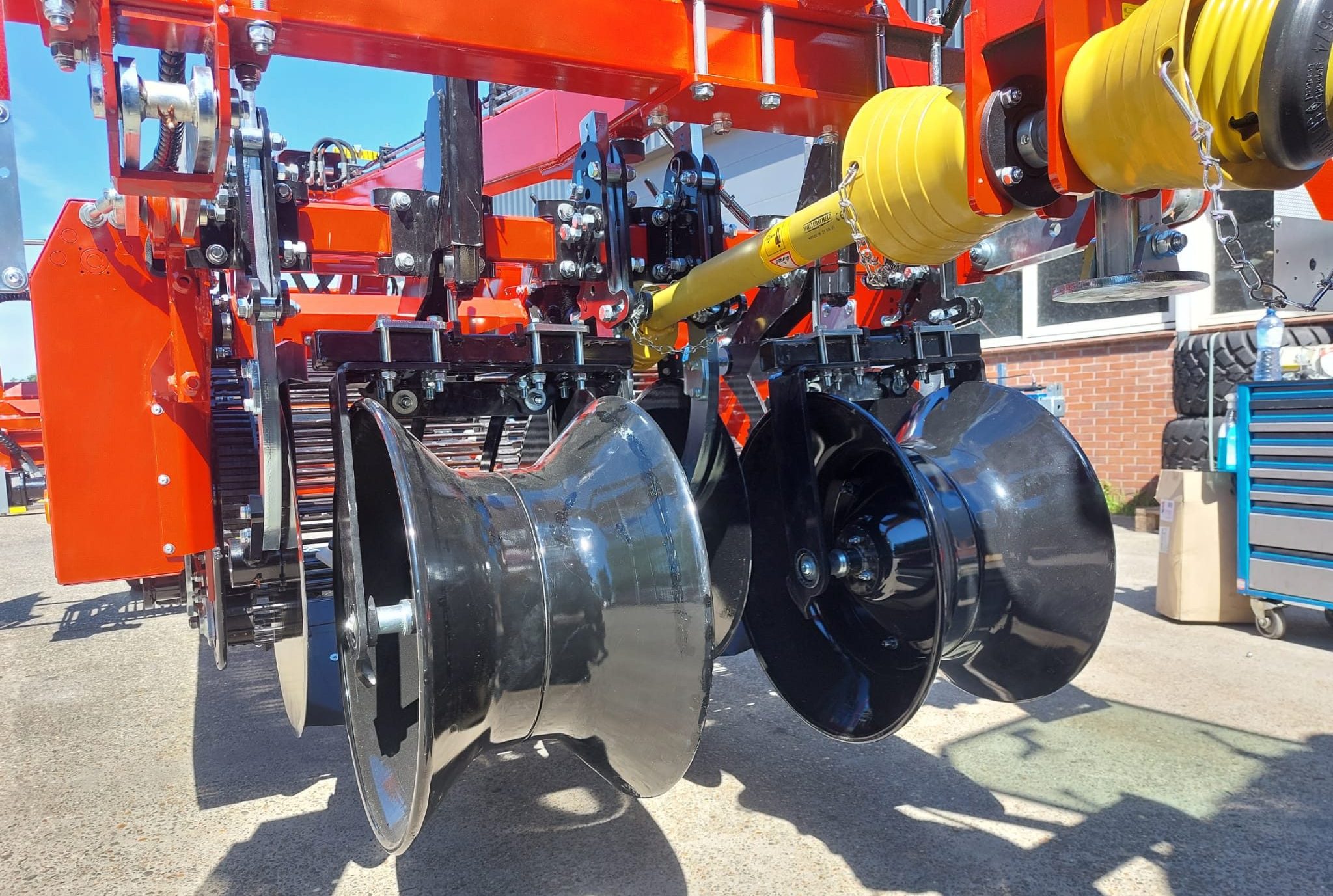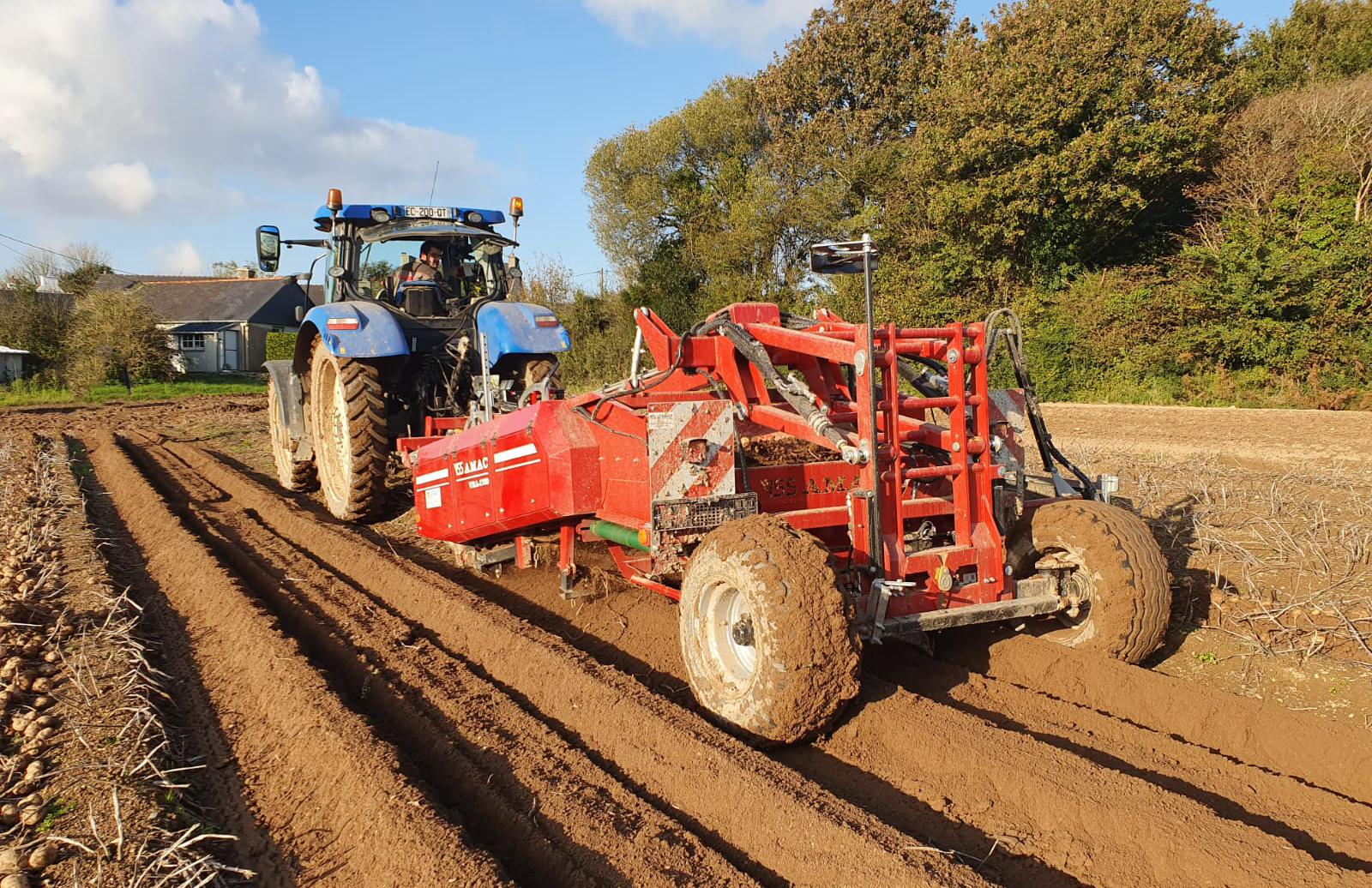 WORN OR SEMI-WORN VERSION
The robust potato stock harvester is always designed for rear attachment to the tractor. You have the choice of a worn or semi-worn version. With a semi-mounted harvester, you can use a lighter tractor. In addition, it benefits pressure distribution on potato ridges. To harvest potato ridges, the VRA is equipped with two or three scissor chisels per ridge. Optional full-width scissor chisels are available. The chisel rack is height adjustable. In addition, the machine is equipped with four harvesting discs with a diameter of 600 mm.
TRAVEL IN DIFFERENT WAYS
A nice even swath is achieved by the height-adjustable soil slide that runs under the Potato Stocker. Instead of the standard support wheels, the pressing of the swath can also be optionally controlled with a stainless steel swath roller. The VRA places the potatoes on the windrow by means of plastic windrow guide plates combined with an adjustable windrow sled. Other deposition desired? Optionally, we can equip the machine with a bunker or side discharge. See all possible options for the VRA further down this page.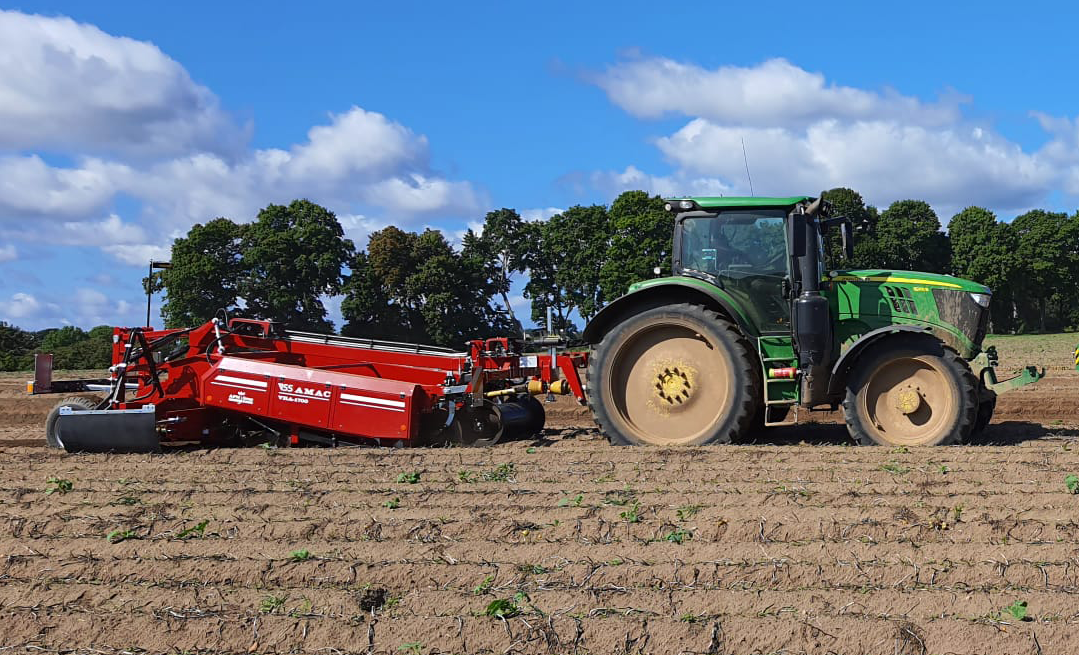 WHY CHOOSE THE VSS AMAC POTATO STOCK HARVESTER?
Very robust construction
Safe, due to covering caps and chain tensioners
Nice even swath
Many options available to expand or customize machine
Standard LED lighting
EXECUTIONS
The stock potato harvester comes standard in 2 different versions. Both versions can be expanded and/or customized with additional options.
| TYPE | VRA 1500 | VRA 1700 |
| --- | --- | --- |
| Spoorbreedte | 1,5 m (t.b.v. 2x rug op 75 cm) | 1,7 m (t.b.v. 2x rug op 90 cm) |
| Werkbreedte | 1,42 m | 1,7 m |
| Gewicht standaard versie machine | ca. 1.150 kg | ca. 1.300 kg |
| Hoofdaandrijving | PTO 540 omw/min | PTO 540 omw/min |
| Breedte | 1,98 m | 2,26 m |
| Lengte | 4,5 m | 4,5 m |
| Hoogte | 1,25 m | 1,25 m |
| Roterende kloppers | 2 | 2 |
| Zwadverlegger | 50 - 70 cm | 50 - 70 cm |
| Zeefoppervlak | 3,55 m² | 4,25 m² |
| Diepteregelende wielen (handmatig) | 2 | 2 |
| Spijlenbanden | 2 | 2 |
| Steek | 42 mm | 42 mm |
| Spijl diameter | Ø 10,5 mm | Ø 10,5 mm |
| Aantal schijven | 4 | 4 |
| Diameter schijven | Ø 600 mm | Ø 600 mm |
Interested in a VSS AMAC Potato stock harvester? For more information, please
contact
with us or find the
nearest dealer
near you.
THE VSS AMAC POTATO STORAGE HARVESTER VRA IN DETAILS

Soil slide for level swath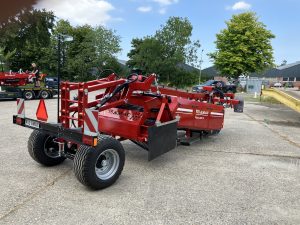 Semi-supported design (optional)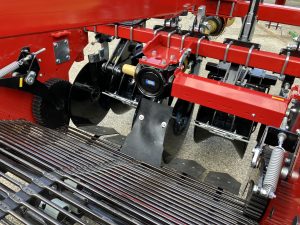 Two grubbers per back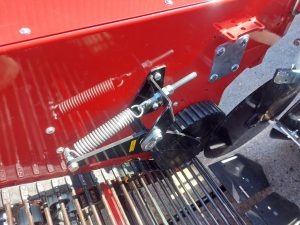 Foliage retracting wheels (option)

Diabolos (optional)

Full-width scissor chisels (option)
ADDITIONAL OPTIONS
Customize the VSS AMAC Potato Stock Harvester to your needs? That's no problem at all. Several options are available to extend or modify the VRA.
Semi-supported version
Fixed deposit belt (side deposit)
Hydraulically extendable deposit belts (choice of side deposit and swath deposit)
PTO shaft 1000 rpm
Full-width scissor chisels
Leaf retracting wheels
Depth control via diabolos
Automatic depth control
Different pitch, bar diameter and trim
Plastic swath guide plates with adjustable swath carriage, for depositing in swath
Stock bunker
stainless steel windrow roller