Description
VSS AMAC SWEET POTATO HARVESTER (BR)
PRODUCT-FRIENDLY HARVESTING OF SWEET POTATO
Due to the growing popularity of the sweet potato in European countries in particular, VSS Machine Construction has added an additional machine to its
VSS AMAC product portfolio
added. The VSS AMAC Sweet potato harvester (BR) is a semi-supported two-row harvester developed for product-friendly harvesting of sweet potato. You harvest with the BR on two times 75 cm or 90 cm ridges. A harvester for sweet potatoes works slightly differently than a harvester for the common potato. The sweet potatoes are harvested by machine and then immediately sorted by hand and filled into storage crates. This is all done on the same machine that takes into account, above all, the fragility of the product.
GET IN TOUCH
LONG STRAPS
The machine comes standard with its own hydraulic system and a steered wheel axle. This makes the BR a very maneuverable machine. One beater is mounted in the harvester belt as standard. Thus, the sweet potato can be lightly sifted. Optional multiple beaters are available. You control the beaters infinitely in intensity. The two long grub bands are made of one piece and have no transition. Together with the small angle of inclination, this ensures that the chance of a damaged product is minimal. The long lifting bands have another function: the sweet potatoes are lifted with as much soil as possible. That soil can then be sifted out on the long harvester belt. This also minimizes the chance of damaging the sweet potatoes.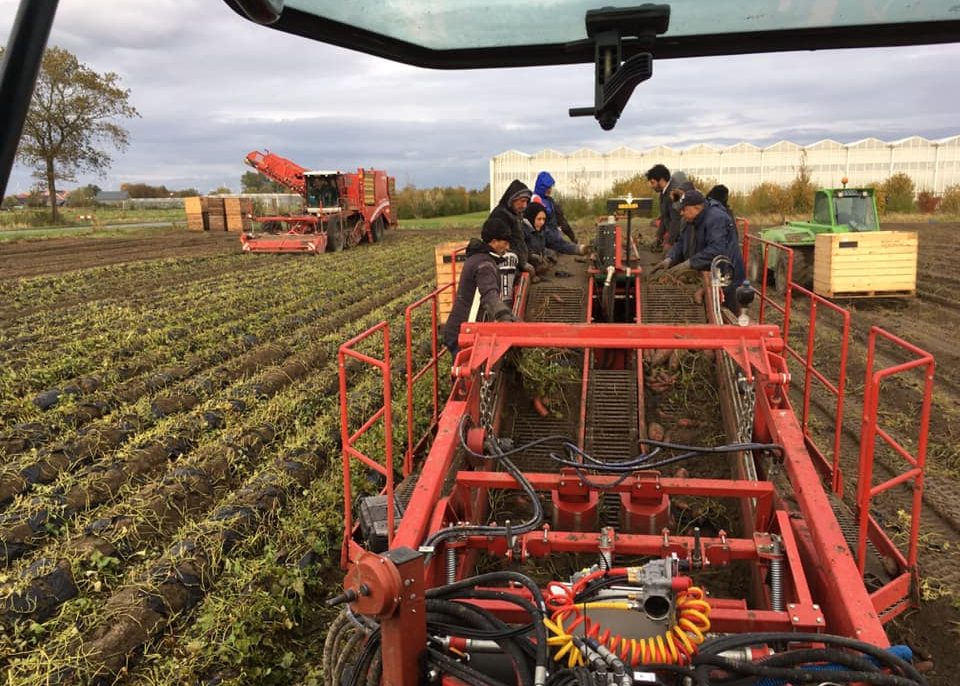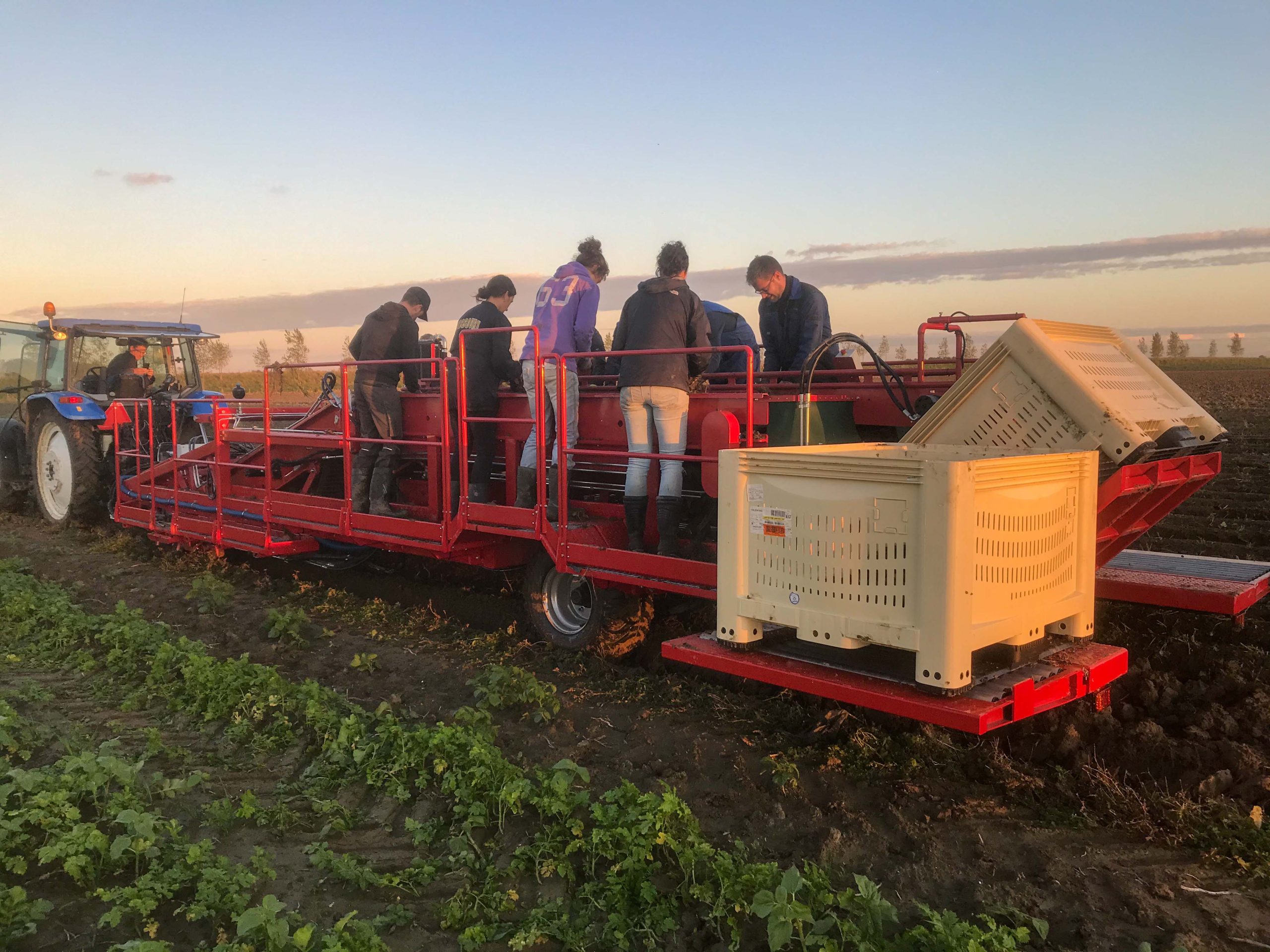 OPERATION OF THE SWEET POTATO HARVESTER
The two long harvesting belts run from the harvesters directly to the so-called reading table. There the sorting process begins by up to 10 workers at a time (5 on each side). They sort the sweet potatoes and then place them on the middle PVC product belt, after which they are deposited in the crate. The BR comes standard with automatic box filler, for 120 cm by 120 cm storage boxes. Optional heavier box filler is available for filling 120 cm by 160 cm boxes. The speed of the harvest belts and product belt are hydraulically driven and infinitely adjustable. At the level of the reading table, there is a control box with which to operate the box filler.
OPTIONS AND POSSIBILITIES
Like all other
potato harvesters from VSS AMAC
the BR is a very complete machine that you can expand with various options. For example, consider a camera system with three cameras and a monitor. Or wider tires with tractor tread tire size 440/65R20 instead of the standard 320/85R20 supplied. See the rest of the options for the Sweet potato harvester here. Other wishes? If so, please
contact
us or ask your
VSS AMAC dealer
for a customized consultation.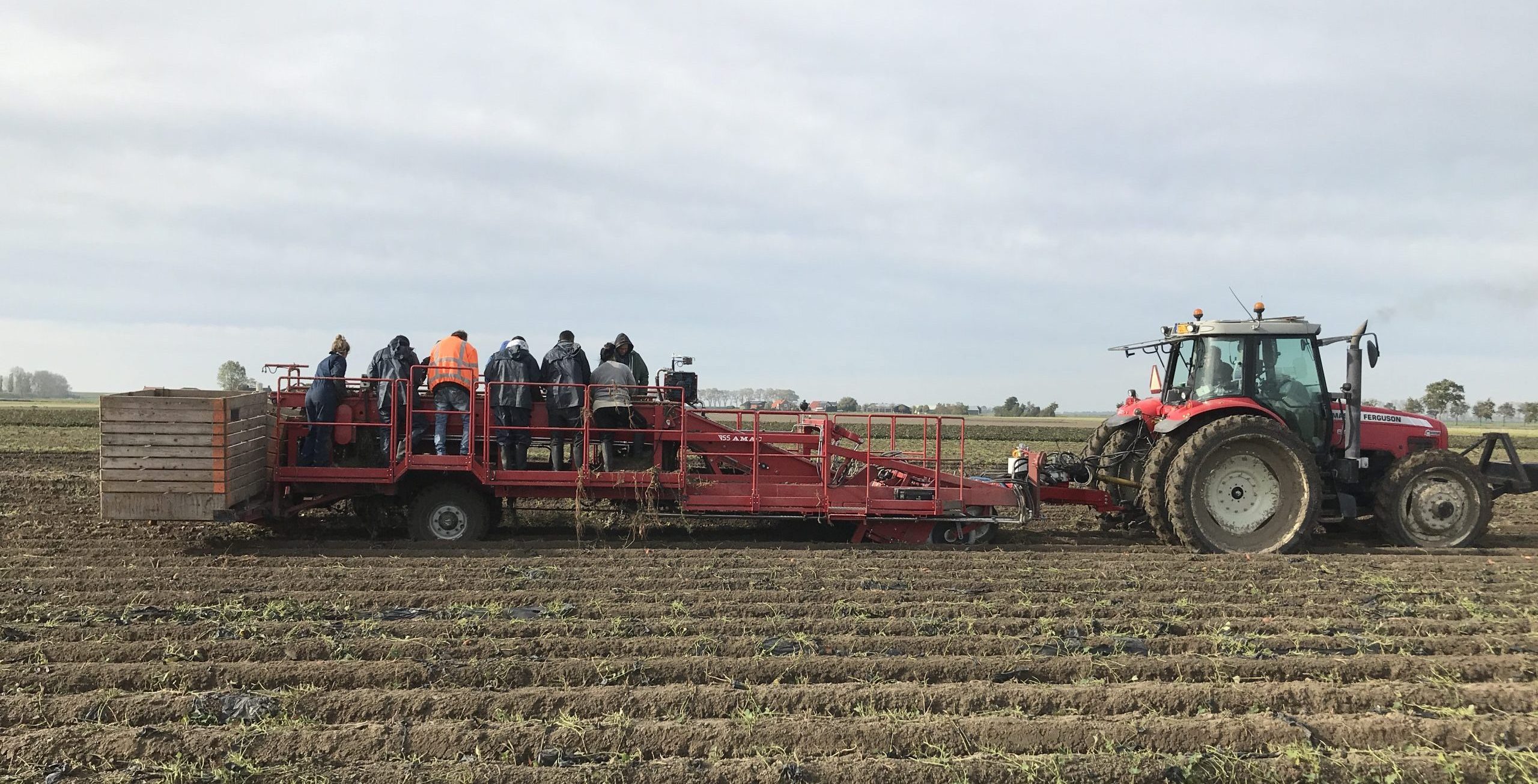 WHY CHOOSE THE VSS AMAC SWEET POTATO HARVESTER?
Very robust construction
Product-friendly machine, damage minimized
Highly maneuverable, due to steered wheel axle
All driven functions infinitely adjustable from the tractor
Low maintenance
Standard LED lighting
TECHNICAL SPECIFICATIONS
We are currently building the VSS AMAC Sweet potato harvester as a very complete machine in one version: VSS AMAC BR 1500. However, the sweet potato harvester can be customized and/or expanded with various options. Check out the technical specifications of the BR 1500 below.
| TYPE | BR 1500 |
| --- | --- |
| Werkbreedte | 1,48 – 1,7 m |
| Spoorbreedte | 1,5 m |
| Gewicht standaard machine | ca. 7.000 kg |
| Hoofdaandrijving | PTO 540 omw/min |
| Breedte spijlenband | 2,3 m |
| Lengte | 11,0 m |
| Hoogte | 2,5 m |
| Diepteregeling | d.m.v. diabolo's |
| Aantal rooibeitels per rug | 1 |
| Aantal rooischijven (Ø600 mm) | 3 |
| Neusrol | Ø 110 mm |
| Invoerkanaal | 1 |
| Breedte rooimat | 500 mm |
| Lange spijlenbanden | 2 |
| Steek | 40 mm |
| Spijldiameter | Ø 10,5 mm |
| Roterende kloppers | 1, meer optioneel mogelijk |
| Aantal werkplateaus | 2 |
| Aantal personen per werkplateau | max. 5 personen |
Interested in a VSS AMAC Sweet potato harvester? For more information, please
contact
with us or find the
nearest dealer
in your area.
THE VSS AMAC SWEET POTATO HARVESTER IN DETAILS

Automatic box filler, space for 3 boxes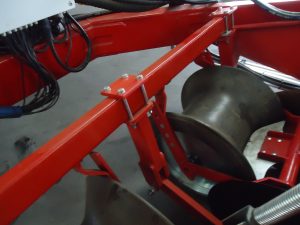 Depth control using diabolos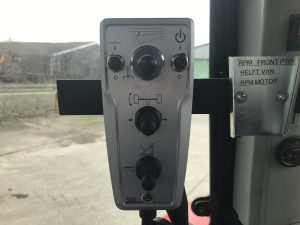 Hydraulically controlled tires with automatic center position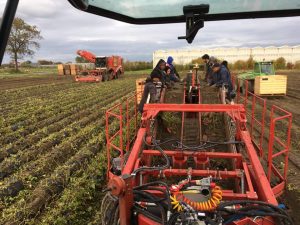 2 long bar ties pitch 40 mm and bars of Ø10.5 mm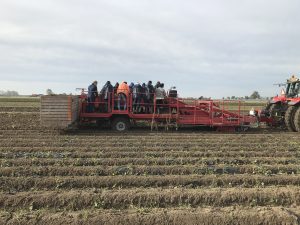 Reading table with space for 8-10 people, with controls for box filler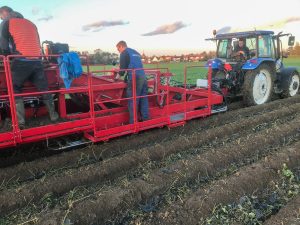 Trailed machine
ADDITIONAL OPTIONS
Several options are available to expand or modify the VSS AMAC Sweet potato harvester. Thus, we build a sweet potato harvester entirely to your requirements. Some options include:
Automatic depth control
PTO shaft 1,000 rpm
Hydraulically driven discs
Extra beaters in grub mat
Oscillating grubbing channel
Other pitch and bar diameters
Camera system
Wider tires
Automatic lubrication system
Weighted box filler (for heavier boxes measuring 1.6m by 1.2m)