Description
VSS AGRO TRACK CULTIVATOR
THOROUGHLY ADDRESSES PROBLEM OF JAMMED TRACKS
Subsurface compaction is a growing problem. Large, heavy farm machinery in wet conditions often causes soil compaction and jammed ruts that are often difficult to release. With the VSS Agro Sporenwoeler, it is possible to thoroughly tackle the problem of jammed tracks.
GET IN TOUCH
CHISELS AND PRE-CUTTING KNIVES
This very robust machine has a standard clearance under the beam of 70 cm. As standard, we equip the spur trencher with 80 mm chisels and interchangeable pre-cutting knives. You can also choose chisels of 220 mm or even 300 mm. Do you want to change the chisels? This can be done very simply by loosening one bolt. The sophisticated shape of the chisel ensures an even depth. Also, the design provides a relatively low tractive effort, in addition, the track cultivator reaches depth right away.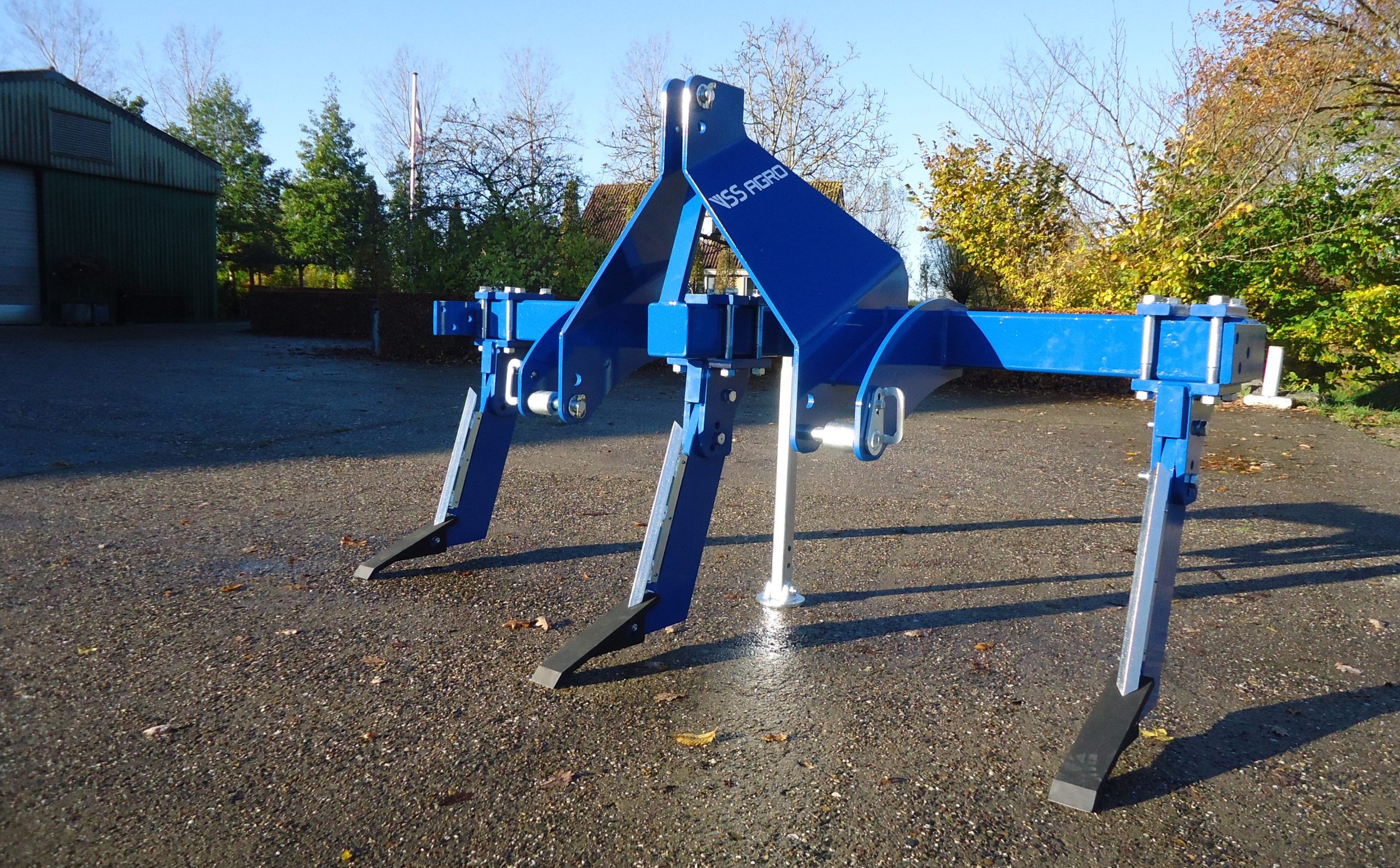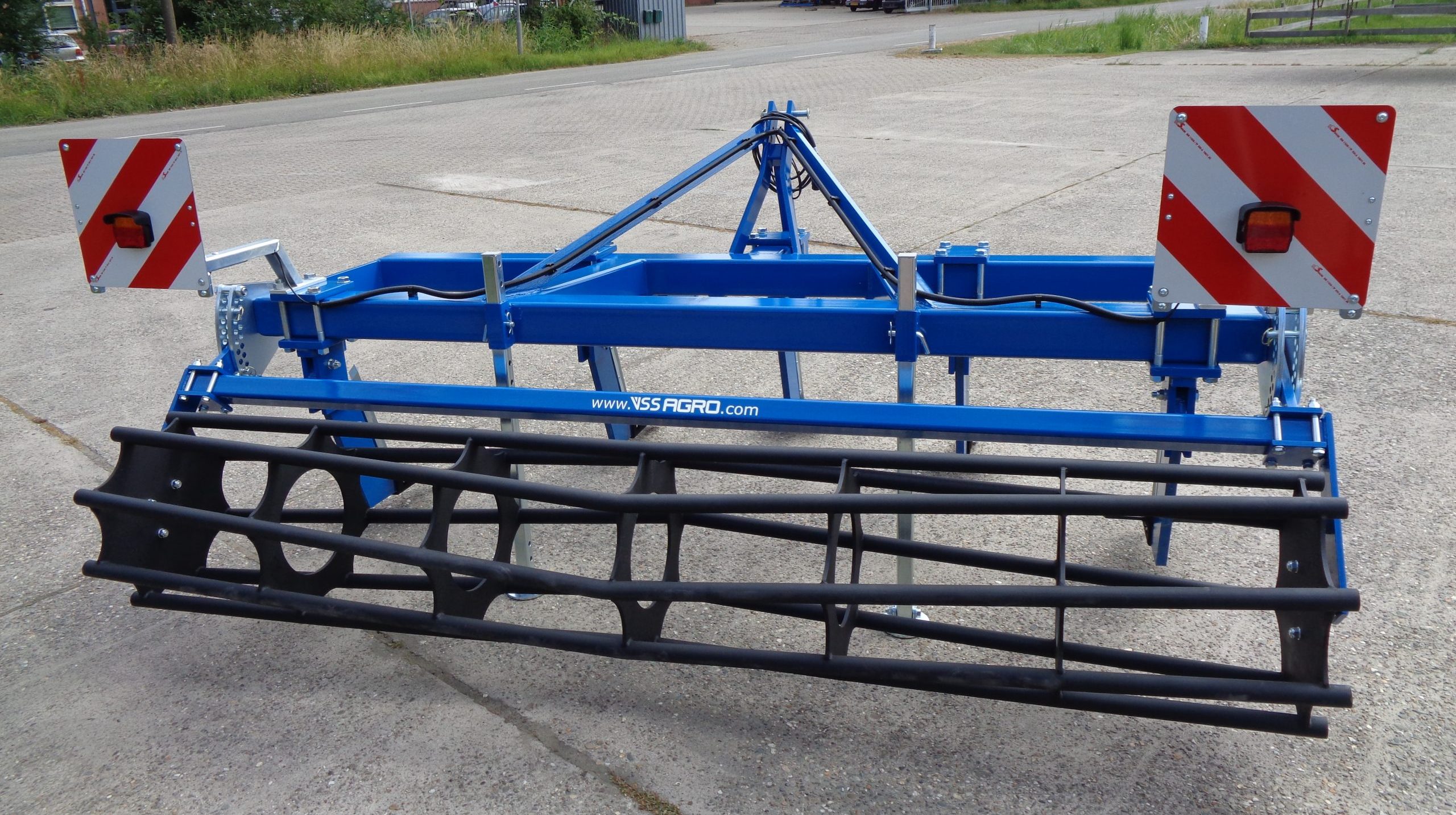 OPTIONS AND CAPABILITIES TRAIL SPOILER
Optionally, we can equip the machine with a Ø 62 cm tubular roller for additional crumbling. The cultivator is so constructed that it is very easy to adjust the spacing of the tines. With the hydraulically adjustable track cultivator (type MTO-3 HV), it is possible to infinitely adjust tine spacing from 1.5 m to 2.25 m. It is also possible to implement the track cultivator as a grassland cultivator, by applying flat discs and depth wheels.
WHY CHOOSE THE VSS AGRO SPUR CULTIVATOR?
Reverses jammed tracks with ease
Robust and simple machine
Chisels and blades very easy to change
Low pulling force due to design of chisel
Multifunctional: can also be used as a grassland cultivator (version with flat discs)
EXECUTIONS
There are four different versions of the VSS Agro Sporenwoeler: MTO-2, MTO-3 TNV, MTO-3 HV and MTO-5. The numbers represent the number of teeth on the machine. In both MTO-3 versions, the center tine is positioned forward, with the outer tines of the MTO-3 HV also being hydraulically adjustable.
| TYPE | MTO-2 | MTO-3 | MTO-3 TNV / MTO- 3 HV | MTO-5 |
| --- | --- | --- | --- | --- |
| Aantal lichamen | 2 | 3 | 3 | 5 |
| Werkbreedte | 2,25 m | 2,25 m | 2,25 m | 3 m |
| Werkdiepte | 70 cm | 70 cm | 70 cm | 70 cm |
| Gewicht standaard versie machine | 320 kg | 450 kg | 480 kg | 650 |
| Standaard beitels | MTO-80 | MTO-80 | MTO-80 | MTO-80 |
| Voorsnijmes | Ja | Ja | Ja | Ja |
| Rol (optie) | Ø62 x 250 cm | Ø62 x 250 cm | Ø62 x 250 cm | Ø62 x 320 cm |
Interested in the VSS Agro Sporenwoeler? For more information, please
contact
with us or find the
nearest dealer
near you.
THE VSS AGRO SPORE WASHER IN DETAILS

Interchangeable pre-cutting blades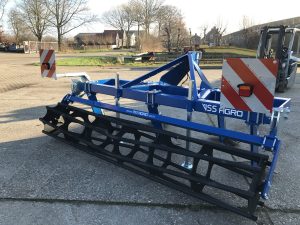 LED lighting and marker signs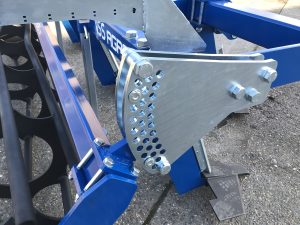 Roller mechanically adjustable in depth

Crumble roll
ADDITIONAL OPTIONS
There are several options to customize the Sporenwoeler to your needs. Do you have a different wish? Feel free to inquire about the possibilities.
Crumble roller Ø62 cm, working width 2.5 m
Crumble roller Ø62 cm, working width 3 m
Draineerkogel
Shear bolt protection
MTO Supertooth for 90 cm clearance instead of 70 cm