Description
VSS AGRO CONSTRUCTION FORKLIFTER
SIGNIFICANT IMPROVEMENT IN SOIL STRUCTURE BY VSS AGRO BUILDING STOCK LIFTER
The top layer of building soil is also called the building stock. This part of the soil is much tilled and fertilized by increasingly large and heavy agricultural machinery. This makes it increasingly difficult to maintain the building stock in good condition. By loosening the soil with the VSS Agro Construction Fork Lifter, you significantly improve soil structure and condition.
GET IN TOUCH
DESIGN CONSTRUCTION FORKLIFT
Our Construction Forklift consists of a very robust double-beam steel box frame with a heavy-duty three-point hitch (Cat III). Due to the design of the machine and the large free space under the beam – ranging from 80-120 cm (tooth dependent), machining from 15 to 40 cm deep is very easy to achieve. The machine comes standard with 500mm chisels and interchangeable pre-cutting blades. Optionally, you can also choose from 220mm or 300mm chisels. In addition, it is very easy to adjust the mutual tine spacing of the construction fork lifter.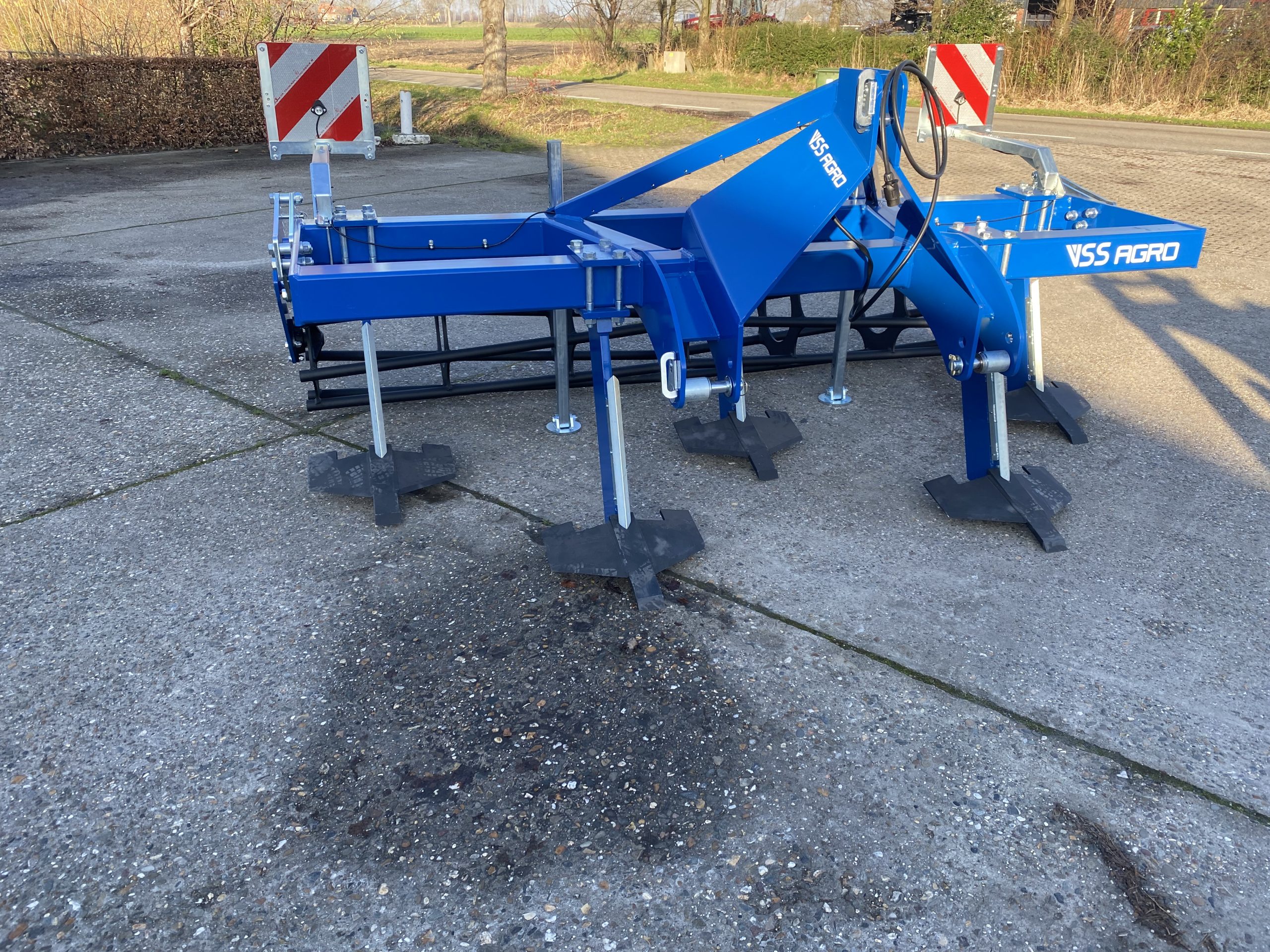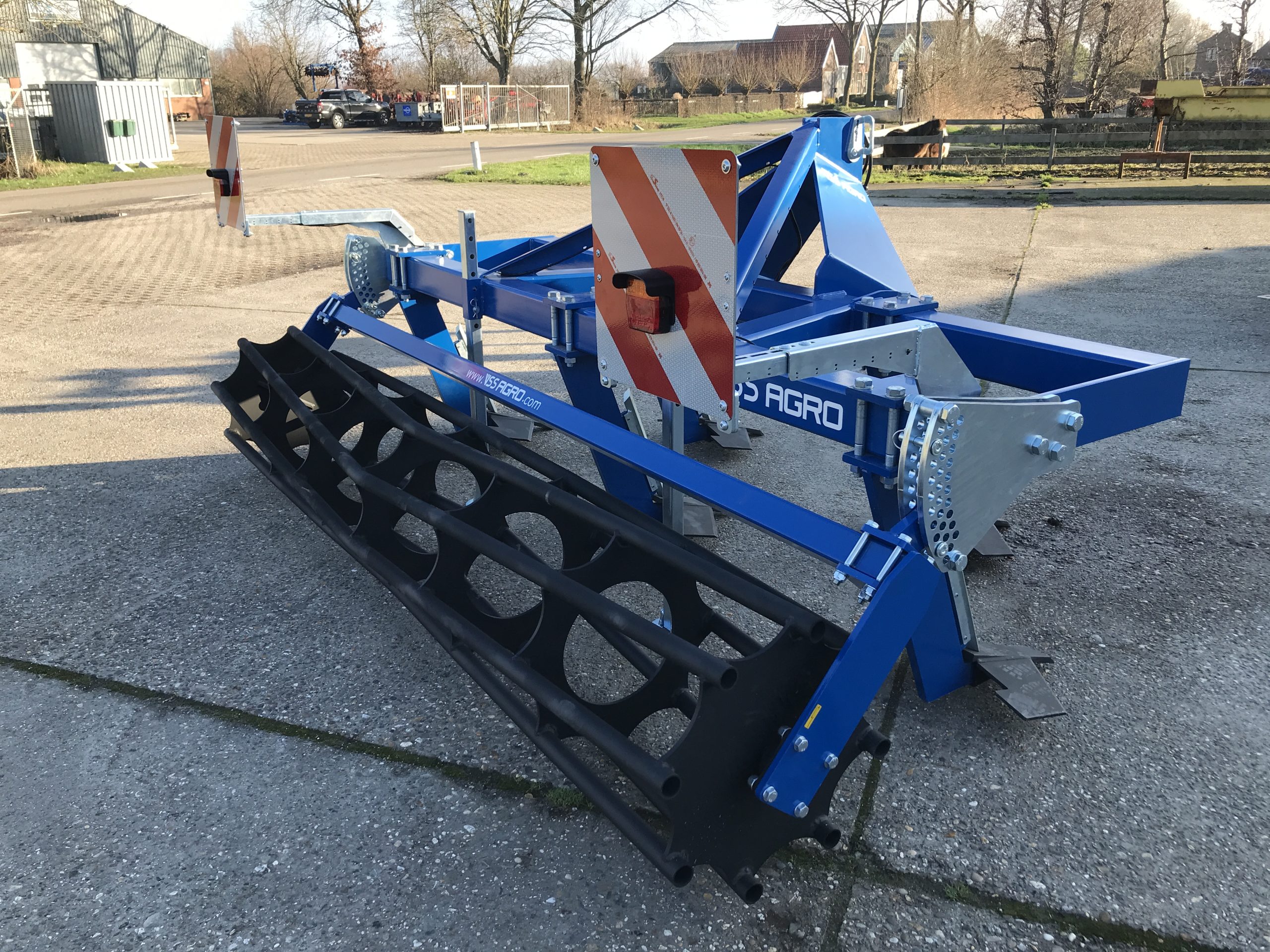 OPTIONS AND POSSIBILITIES
There are three versions of this machine; with 3, 5 and 7 tines. As standard, the construction forklift is supplied with a Ø620mm tube roller with 8 tubes. Optionally, a larger tube roller of Ø700mm is possible. You can also combine the construction fork lifter with the
VSS Cappon Roll
. This roller consists of two robustly designed tubular rollers (Ø700mm) that rotate into each other. As a result, it keeps itself clean during wet conditions and maintains its crumbling action. VSS Agro Construction Forklifts are equipped with lighting/marking signs (LED) at the rear as standard.
WHY CHOOSE THE VSS AGRO CONSTRUCTION FORKLIFTER?
Improves soil conditions significantly
Robust design
Machining to a depth of 40 cm is very easy to perform
Many option options to customize machine as desired
EXECUTIONS
There are three different versions of the VSS Agro Construction Forklift: MTO-P3, MTO-P5 and MTO-P7. The numbers represent the number of teeth on the machine. Each version has a different working width.
| TYPE | MTO-P3 | MTO-P5 | MTO-P7 |
| --- | --- | --- | --- |
| Werkbreedte | 2 m | 3 m | 3,5 m |
| Aantal balken | 2 | 2 | 2 |
| Aantal tanden | 3 | 5 | 7 |
| Standaard breedte beitels | 50 cm | 50 cm | 50 cm |
| Keuze breedte beitels (optie) | 22 of 30 cm | 22 of 30 cm | 22 of 30 cm |
| Verkruimelrol | Ø 62 cm | Ø 62 cm | Ø 62 cm |
| Werkbreedte verkruimelrol | 2,5 m | 3,2 m | 3,5 m |
| Vrije ruimte onder de balk | 70 cm | 70 cm | 70 cm |
| Verlichting en markeringsborden | LED | LED | LED |
Interested in the VSS Agro Construction Forklifter? For more information, please
contact
with us or find the
nearest dealer
near you.
THE VSS AGRO CONSTRUCTION FORKLIFT IN DETAILS

Coil chisels 500 mm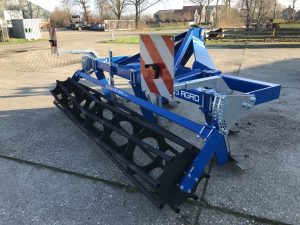 Tube roller 700 mm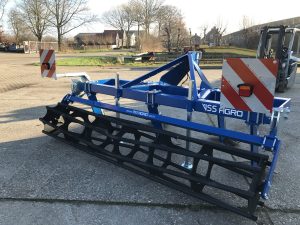 LED lighting and marker signs

With VSS Cappon Roll

Narrower chisels

Interchangeable pre-cutting blades
ADDITIONAL OPTIONS
There are several options to customize the Construction Forklift to your needs. Is the desired option not listed? Feel free to inquire about the possibilities.
Tube roller Ø70 cm, instead of tube roller Ø62 cm
Angle adjustable tine instead of fixed tine
Shear bolt protection instead of fixed teeth
MTO Supertooth for 90 cm clearance instead of 70 cm