Description
VSS AGRO SEEDBED CULTIVATOR
SUCCESSFUL CULTIVATION BY THE VSS AGRO SEEDBED CULTIVATOR
During spring, good, fast seedbed preparation is very important. After all, due to changing climate conditions, periods are shorter and soil structure poses a challenge. The  VSS Agro spring tilling machines are at the basis of a successful crop. Like our VSS Agro Seedbed Cultivator. This machine creates a well-crumbled seedbed, a neat flat surface and good pressing of the top layer. Ideal for fine-seeded crops such as sugar beet and onions. Of course, you can also use the machine as preparation for planting potatoes or sowing maize. The seedbed cultivators are modular and several variants and options are available. What do all types of VSS Agro Seedbed Cultivators have in common? The ease of adjustment always prevails! In addition, the drag chisels and levelling plates create a perfect flat surface, preventing harvesting problems in autumn.
GET IN TOUCH
CONSTRUCTION OF THE SEEDBED CULTIVATOR
The machine consists of a sturdy welded frame with the various components attached that perform the tillage operations. At the front of the machine are spring-loaded drag chisels. These chisels pull open the plow cut and level the soil before it enters the crumbling roller. The T-profile roller can be applied both as an aggressive crumbling roller, required for heavy soil or as a supporting roller for sandy soil by simply rotating the roller. The next operation consists of the first leveling plate that levels the seedbed. The five rows of straight vibrating teeth ensure the correct working depth of the machine. The second leveling plate levels the tracks of the vibrating tines, crumbling rollers will additionally crumble the soil due to their speed after which the rear roller presses the seedbed.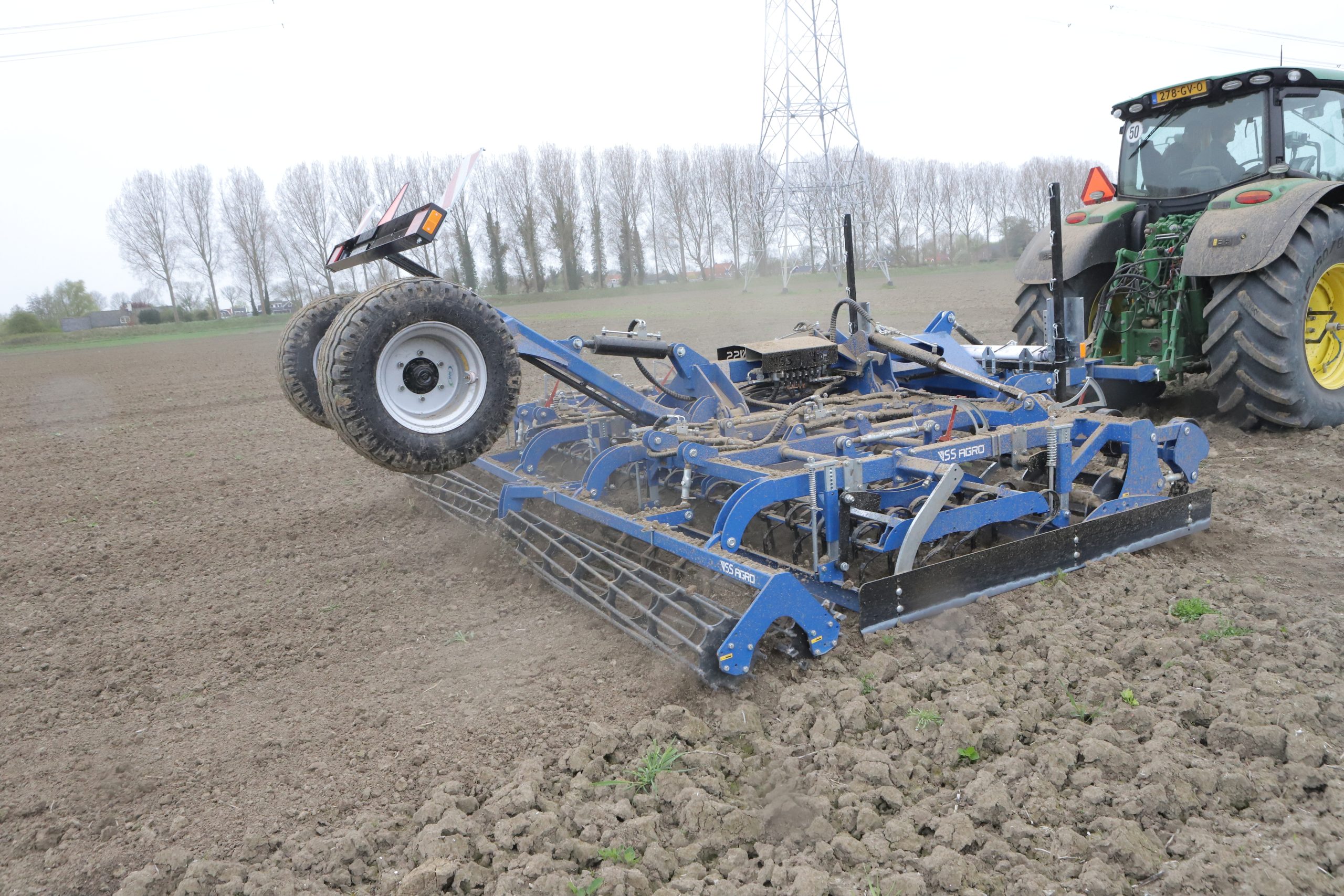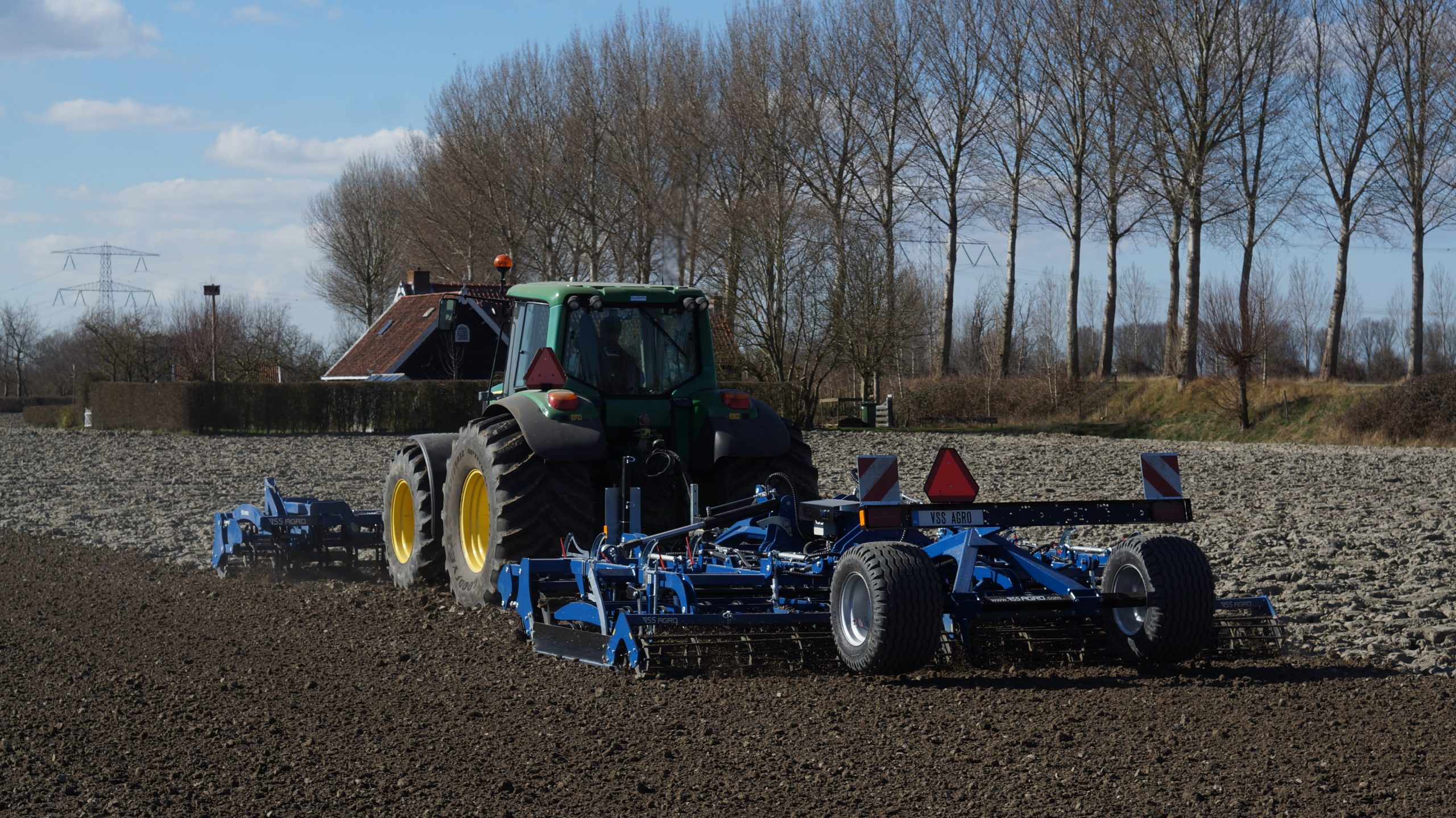 SETTING FROM THE TRACTOR
The most unique thing about the VSS Agro Seedbed Cultivators? That is the hydraulic adjustment of the drag chisels and straight vibrating teeth. While working, you can adjust the depth of both the drag chisels and the vibrating teeth by means of a hydraulic cylinder. A clear scale indicates the working depth. Optionally, the working height of the leveling floor can also be hydraulically controlled. This is done from the tractor with a user-friendly control box.
SEVERAL OPTIONS AVAILABLE
The machine is structured to provide a variety of options. For example, you can choose the drag chisels or the goose foot chisel at the front. At the rear, it is also possible to work with crosskill rings. The tine field can be equipped with five rows of vibrating tines or goose feet. It is available in versions from 3 to 9 meters. Versions from 4.0 meters upwards fold hydraulically. From 4.5 meters, a semi-mounted version is also among the options. All semi-mounted versions meet the set requirements of the Road Traffic Act (RDW).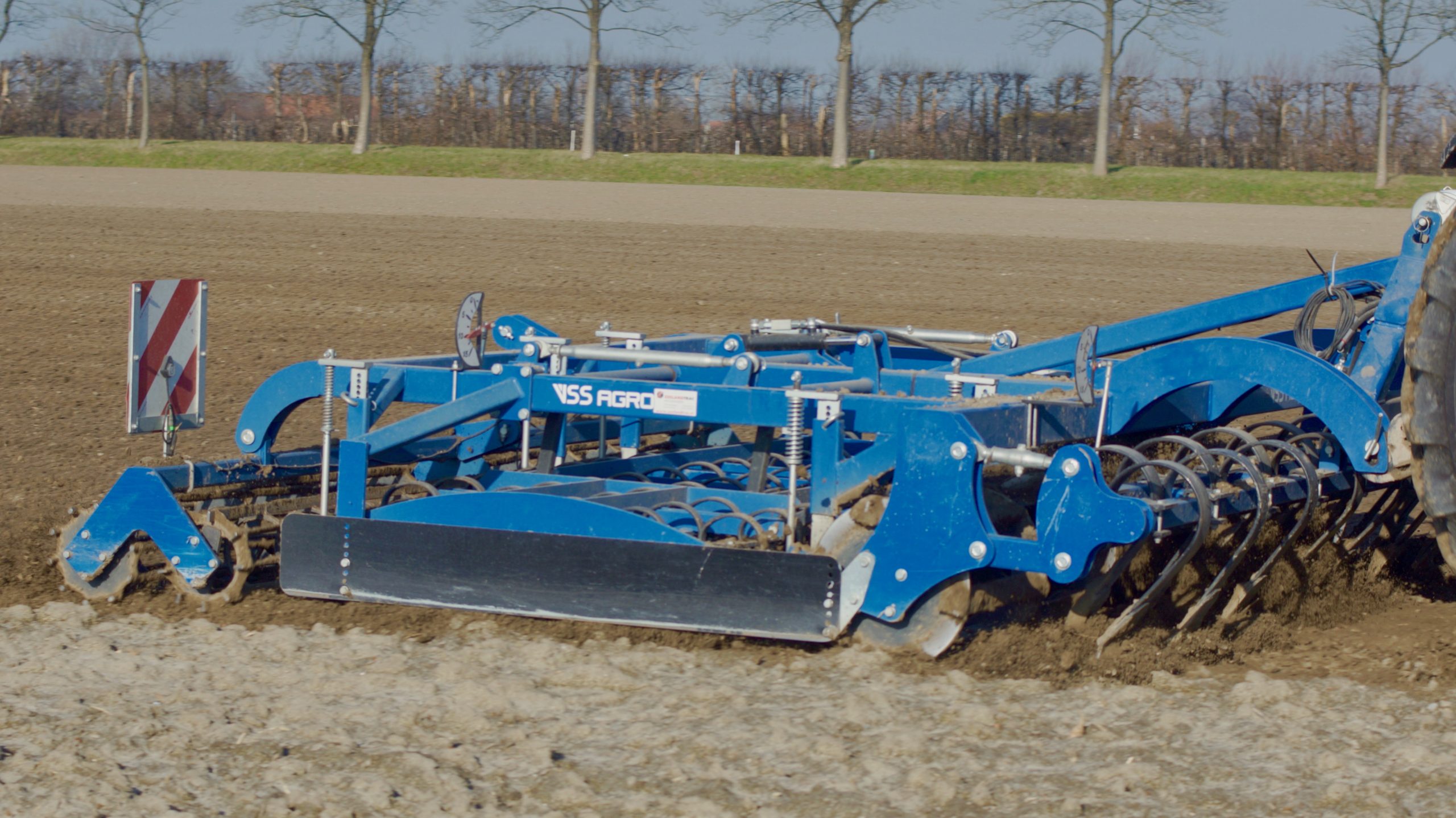 WHY CHOOSE THE VSS AGRO SEEDBED CULTIVATOR?
Robust, reliable machine of Dutch manufacture
Creates perfectly crumbled and even seedbed
User-friendly operation from the tractor
Hydraulic adjustment of drag chisels or goose feet
Expandable with many options
Full RDW approval
EXECUTIONS
The tables below provide an overview of the different types of seedbed cultivators. There are 8 different versions of the VSS Agro Seedbed Cultivator, all expandable and/or customisable with various options.
TYPE
ZB 3000
ZB 3500
ZB 4000
ZB 4500
ZB 5000
ZB 5500
ZB 6000
ZB 7000
Mass standard machine
ca. 1,500 kg
ca. 1,700 kg
ca. 2,750 kg

ca. 3,150 kg incl. wheels
ca. 3,000 kg

ca. 3,300 kg incl. wheels
ca. 3,250 kg

ca. 3,550 kg incl. wheels


ca. 3,850 kg incl. wheels


ca. 5,000 kg incl. wheels


ca. 6,000 kg incl. wheels
Total length
3.75 m
3.75 m
4 m

6.5 m (with wheels)
4 m

6.5 m (with wheels)
4 m

6.5 m (with wheels)
4 m

6.5 m (with wheels)


7.5 m


7.5 m
Total width
3.25 m
3.5 m
4.25 m
4.75 m
5.25 m
5.75 m
6.25 m
7.25 m
Total height
1.5 m
1.5 m
2.5 m
2.75 m
3 m
3.25 m
3.5 m
3.9 m
Total of spring tines
59
69
81
90
101
110
120
139
Total of sliding tines
13
15
17
19
23
23
27
31
Work width
3 m
3.5 m
4 m
4.5 m
5 m
5.5 m
6 m
7 m
Working depth
0 - 15 cm
0 - 15 cm
0 - 15 cm
0 - 15 cm
0 - 15 cm
0 - 15 cm
0 - 15 cm
0 - 15 cm
Working speed
5 - 15 km/h
5 - 15 km/h
5 - 15 km/h
5 - 15 km/h
5 - 15 km/h
5 - 15 km/h
5 - 15 km/h
5 - 15 km/h
Foldable
No
No
Hydraulic
Hydraulic
Hydraulic
Hydraulic
Hydraulic
Hydraulic
Transport width
3.25 m
3.5 m
2.4 m
2.4 m
2.4 m
2.4 m
2.9 m
2.9 m
Interested in de VSS Agro Seedbed Cultivator? For more information, please contact with us or find the nearest dealer.
THE VSS AGRO SEEDBED CULTIVATOR IN DETAILS

Two rows sliding tines hydraulically adjustable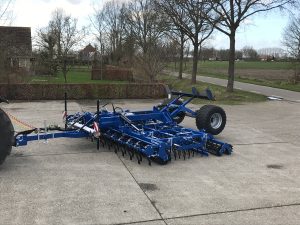 Full RDW approval (Dutch Road Traffic Act)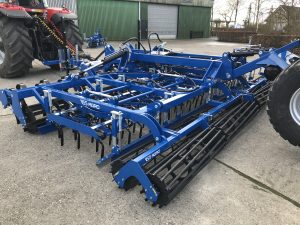 Two crumbling rollers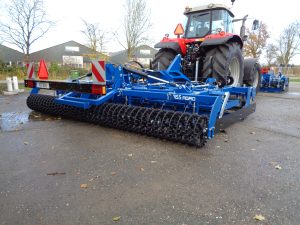 Featured with 1 or 2 rows of overlapping crosskill rollers (option)
ADDITIONAL OPTIONS
We have various options to extend and/or customise the machine to your requirements. The most common options are listed below. Do you prefer a different solution? Ask your dealer about the possibilities!
Crosskill rings
Goose Feet
Large roller set Ø 35 cm
Side plates / extended side plates
Central hydraulic adjustment of both levelling boards
Half-supported configuration (from 4.5 m)