VSS Machinebouw celebrates Intern Day
On May 25, we celebrate Intern Day in the Netherlands. A
great day
to put our hard-working interns in the spotlight. At VSS Machinebouw, too, pupils and students regularly take part in work placements at the office or in the factory. From short vmbo internships to longer MBO/HBO internships, and even graduation assignments. The great thing is that many of our interns tend to 'stick around' and join us as employees after their internship.
Our interns in the spotlight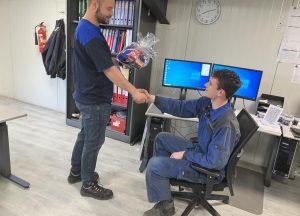 Florian is currently doing his graduate research in our engineering department and will finish his studies this summer. He will then join our assembly department. Joart is doing a short vmbo internship in the assembly department. This type of internship is meant to give youngsters a taste of working for a technical company. In doing so, we always hope to enthuse young students to choose a technical profession. Because there is still a shortage of mechanics, welders, constructors and other technical professions in our country.
Are you also interested in an internship at VSS?
Would you also like to do an internship with us after the summer holidays or next winter? As a training company, we believe it is important to share and pass on knowledge. Therefore, trainees are always welcome at VSS Machinebouw. Please contact our internship supervisor Anne de Feijter, at
anne@vssmachinebouw.com
or call
0113 – 567 050
and ask about the possibilities. Also check out our
working at page
to find out more about VSS Machinebouw as an employer and what it is like to work or do internship at our location in Oudelande.
News item published on: 25 May 2023