VSS Machinebouw sponsors equestrian event Jumpin' de Weel
From July 31 to August 6, the 20th edition of Jumpin' the Weel took place. The seven-day equestrian event of equestrian club De Weelruiters in Nisse. VSS Machinebouw has been sponsoring local associations and events in the area for many years. This includes Jumpin' de Weel.
Sponsorship principles

The premise of sponsorship by VSS Machinebouw is that we ourselves 'have something to do with the association or event'. This may be because it is agriculture-related (think of tractor pulling events), or it may be an association that one of our employees is a member of. At Jumpin' De Weel, some of our colleagues even volunteer during the annual event. They take time off to help with construction, during the event and with dismantling afterwards.
Jumping over the VSS Machinebouw obstacle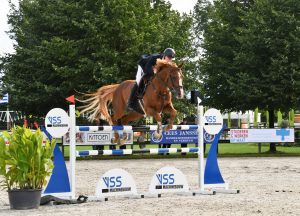 This year we had our own sponsor hurdle on the course for the first time. And although the rain unfortunately kept on pouring throughout the week, it did not seem to bother the horses and riders. They flawlessly jumped over the blue-white-black bars of the VSS Machinebouw obstacle. Here's to another edition!
Photos by: Joke Schipper, © De Weelruiters

News item published on: 7 August 2023